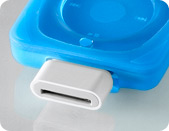 When Adam says something looks like it's going to be cool, it probably will be. The SendStation Dock Extender is no exception.
According to SendStation, "The Dock Extender enables iPod & iPhone users to dock and connect their device with iPod speaker systems and docking stations, as well as FM transmitters and voice recorders, without prior removal of its protective case."
For ages I have been annoyed because I have to take out my iPod from it's case thus exposing it's precious body to the elements whenever I wanted to dock it. No more with the SendStation Dock Extender. From the pictures (see above), it looks like a little dongle that hitches to your iPod's dock port. Once attached, your iPod, case and all, can then dock with your favorite iPod dock connector accessories using the included Universal Dock insert. According to SendStation the Dock Extender will work with any iPod case that has dock connector opening. I take that to mean any case that accepts the connector from the sync cable included with your iPod. The Dock Extender is due out in March and no matter how much it costs (suggested retail price is to be determined), I bet I will be getting one.