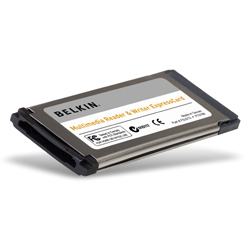 One of the early "Get a Mac" ads featured the Mac being able to communicate with a new digital camera while the PC just looked on, bewildered. Apple computers are supposed to "just work." Yep, they "just work" with some peripherals if you happen to have a USB cable handy. Why is this the case?
Apple has always been an innovator. They dropped the floppy disk drive much earlier than other PC makers, included wi-fi in their laptops before many others and of course, Apple's industrial design has influenced many other computer makers.
But for some reason, Apple has not integrated a media card reader into their laptops, nor their desktop lines. I own a MacBook Pro, and a couple of more slots on the side of the laptop would not look odd or ugly. iMacs could also benefit from a few slots for SD or CompactFlash cards artfully placed below the CD/DVD drive. It's absolutely inexcusable that the Mac Pros do not have such slots. These are pricey computers; they should have features that are available on low-end PCs. However, I am not sure where on the Mac mini Apple could place easily accessible multimedia card slots.
You would think that since Apple is geared towards the creative, with software like iPhoto and iMovie, that there would be an easy, USB cable-free way to get the data on to your Mac so you can create. Who wants to search for cables when creativity strikes?
If you have a MacBook Pro and are dying to have a card reader, there's a solution from Belkin that keeps your MacBook Pro's form factor intact. You can view the product over at Belkin's site. As of this writing, Belkin is out of stock of their multimedia card reader.