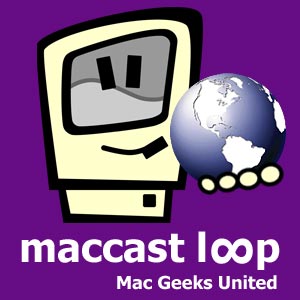 [audio:http://recordings.talkshoe.com/TS-12563.mp3]
Download this show here!


TS-10208.mp3 [28.2MB 01:01:30]
Subscribe







Episode 003 of the new Maccast Loop. "The Loop", offers a whole new way to join the Maccast community. It is recorded live each Sunday at 10:00 AM PST/1:00 PM EST. Using the Talkshoe network we offer live audience participation using text and audio chat. You can subscribe in iTunes or by using the links above and then join us live next week.
Maccast Loop – Episode 003
In this episode we discuss gaming on the Mac. We wax nostalgic about all the great titles form the early days of the Mac. Great games like Dark Castle, Maelstorm, and Marathon Infinity. I give you a little history of Halo for the XBox and how it actually began life as a Mac only game. We talk a little bit about what's happening with the latest games on OS X and ask how Intel may or may not change the future of Mac gaming. There is some discussion of iPod games and questions about what Apple might have planned for gaming on the new Apple TV. Of course at the end of the episode we take time for some questions and talk a bit about the rumors of 8-core Mac Pros.
Thanks to my audio engineer and producer, Victor Cajiao (Typical Mac User Podcast [iTunes]) and to all the listeners and participants who make this show possible.