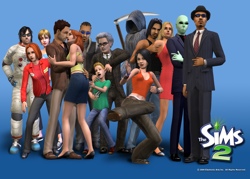 The SIMS 2 USD $49.95
Website: aspyr.com
Ok, before you say, "A game on my Mac, you can't be serious!" Well my friend I am serious. Yeah working with your digital music, pictures, and videos is great but under the hood of that Mac is gaming power that has been unleashed for your pleasure. I am a big supporter of gaming on the Mac. Ever since switching from my PC to the Mac I have found that games just look better on the Mac. The computing power whether it's a Power PC or Intel based Mac, you will find Mac bliss.
If you are asking yourself, "Will it run on my Mac?". You will be pleased to know that it runs very smooth on my iMac G5. If you are not sure, Aspyr has a game agent which will tell you if the game will play on your Mac. You can pick it up for free at www.aspyr.com.
The Sims 2 is like crack to the PC gaming world and the folks at Aspyr have ported it to the Mac. It's been a big hit for EA on the PC and this reproduction for the Mac has been faithfully executed and does not disappoint. The sequel completely blows the original away(as it should). The graphics are phenomenal. You get extra neighborhoods, places to visit, and houses that would make Frank Lloyd Wright drool.
Putting together your character is like making a virtual you by controlling the characters traits, personality, you name it, it's all up to you. You can live in posh surroundings or the Nevada dessert where the neighbors resemble failed projects from Area 51. Move wherever you want.
The best part is that if you get bored with all the goodies, there are expansion packs available to add more content, the game is very addictive. Don't say I didn't warn you. This game is well worth it, you will not be disappointed. If you like to control people or make life and death situations for your little virtual world, get it.