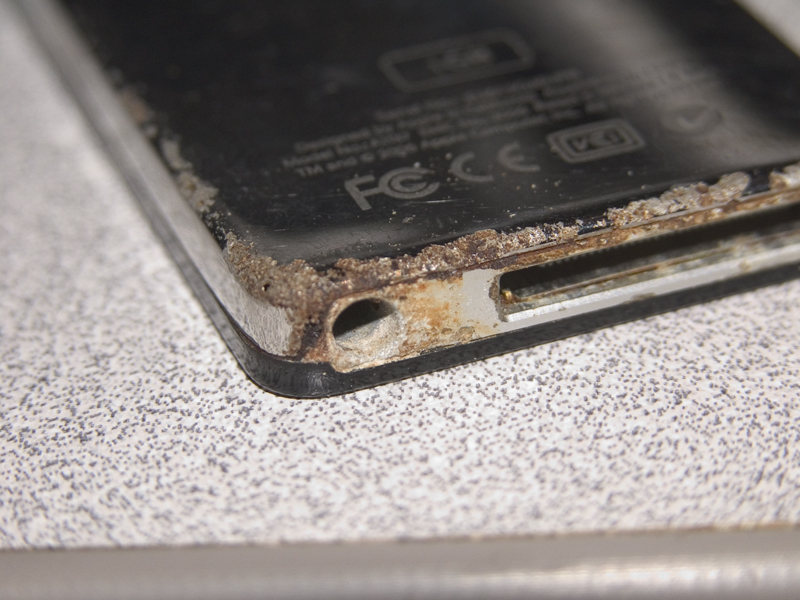 Take a look at this. Listener Bryan has an iPod Nano that is less than a year old and has developed some serious pitting and corrosion along the bottom near the dock connector and headphone jack. The iPod has never had direct contact with water, but Bryan is a runner. He uses the iPod while exercising and has it in a Belkin Sport Sleeve while he's running. The best guess is that the damage has been caused by sweat. From the picture it looks like the unit is one of the original iPod Nano's and not one of the current models that have the anodizing. I assume the newer model would be more immune to this kind of problem, but would love to know your experiences. Have you experienced any damage like this with your iPod?
Follow up to this story. (Taken from the comments)
This unit died a few days after talking with Adam. After a run of course.
I contacted Apple as the unit was under warrenty and they had me send it in for repair. It was returned today with note saying that they were unable to complete the service request.
I called Apple Customer Service and talked to a tech and his supervisor. They were both courtesy but unable to do more than offer what amounts to a $30 discount on a replacement, which is better than a sorry and a pat on the back. But not by much.
While it may not look like it from the picture, the unit actually was taken out of the case and wiped down after every or at least most runs.
The Apple Rep. that I talked to say that the new Ipods are constructed from the same materials as my 1st gen and would be just as subject to corrosion. So If you plan to run with your Ipod you had better get a good sweat proof case.
The thing that kind of bugs me is the Apple and Nike ads on the TV and Web that show a runner dropping his nano into a pocket on the sleeve of his Microfiber shirt and trotting of on a run. No where do they mention that actually do this regularly can destroy you Ipod.
I will replace the nano but you can be sure that I will have a waterproof not water resistant case this time and I will spend more time cleaning it after each run.
keep running