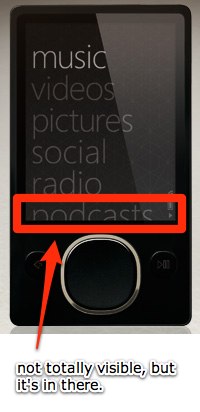 Well Leo, looks like Microsoft is not afraid of the term podcast after all. In looking at the image of the new Zune however, they are not exactly giving podcasts top billing either. At least it's finally in there.
Microsoft has announced the second generation Zunes. The designs look a bit cleaner and come in 4 colors, pink, green, black and glossy red (what no brown?). There are now 3 models. 2 flash based in 4 and 8 GB sizes and an 80 GB hard drive based model. The 80GB hard-drive model has a 3.2-inch screen. Other new features include wireless syncing, touch controls (scrolling?), and longer sharing times on "squirted" tracks. The 3 play limit still applies though. Along with the new Zunes Microsoft will launch the new "Zune Social" community web site in June along with an improved Zune Marketplace. General consensus on the web seems to be that the new Zunes will do OK, but will likely not make much of a dent in Apple's iPod supremacy, probably stealing market-share from other 3rd part players like the Sansa and Zen.
For me what is most exciting about the new Zunes is podcast support. Finally. The Zune website says older Zunes will also be getting a software update, so I assume they will get podcast support too. Microsoft claims to have already sold more than a million Zunes, so that is a nice bump in potential new podcast listenership. It's no iTunes 4.9, but good none the less. I am also hopeful that this may be the first sign that Microsoft is considering broader support for podcasting in it's products. Hey guys, how about Windows Media Player next? Please.