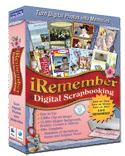 Intriguing Development, Inc. announced iRemember v2.1.1, an update to the company's digital scrapbooking software for Mac OS X. iRemember 2.1.1 is a free update incorporating bug fixes, performance enhancements and support for Mac OS X v10.5.
iRemember is a simplified page layout application designed to turn a user's digital photos into memories by preserving them as personalized scrapbooks. Simply drag and drop pictures from iPhoto or Finder into a template; then scale, crop, resize, rotate or add shadow effects.
iRemember comes complete with starter templates, backgrounds, and a clip art browser for searching through its over 20,000 pieces of clip art and embellishments. Everything needed to create eye-popping scrapbook pages is included – except your photos!

Pricing & Availability:
A free trial of iRemember can be downloaded from www.MacScrapbook.com. Users of iRemember 2.x, may download a free update, while users of iRemember 1.x, may upgrade for only $9.95 plus shipping & handling. Priced at $39.95, iRemember is available for purchase through the MacScrapbook.com store and is available through most Mac resellers including the Apple Store, Office Depot, and Micro Center.