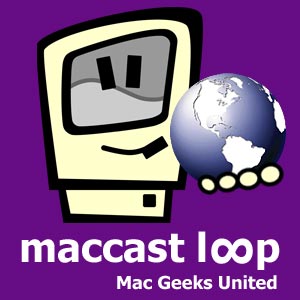 [audio:http://recordings.talkshoe.com/TC-17436/TS-62808.mp3]
Download this show here!


TS-62808.mp3 [48.8MB 01:11:03]
Subscribe







This is Episode 032 of the Maccast Loop. "The Loop", offers a whole new way to join the Maccast community. It is recorded live each Sunday at 10:00 AM PST/1:00 PM EST. Using the Talkshoe network we offer live audience participation using text and audio chat. You can subscribe in iTunes or by using the links above and then join us live next week.
Maccast Loop – Episode 032
In this episode we talk with special guest Ken Ray, Mac OS Ken and Technocracy Radio, about the current competition facing iTunes. Have services like Hulu.com and Amazon MP3 begun to take the shine off iTunes? We discuss the current criticisms security experts have made against Apple's decision to change their approach to security and firewalling in Leopard. Finally we talk about which features in Leopard we find annoying as well as which ones we have uncovered as hidden gems in the new OS.
Thanks to my audio engineer and producer, Victor Cajiao (Typical Mac User Podcast [iTunes]) and to all the listeners and participants who make this show possible.