Divine Robot has developed a new tool that allows Sony Ericsson mobile users copy and synchronize songs from their iTunes library to their phone.
Mac OS X's iSync is good for synchronizing your contacts and calendars to your mobile phone, but not so much for your music. iTunes will generally only sync your music with iPods, some older MP3 players, the Motorola ROKR phone, and the iPhone. Not so much help if you want to play songs from your iTunes library on your phone. That's where the helper-app EasyListening comes in.
Start up the app and plug-in your supported Sony Ericsson phone via USB. Up pops a brushed metal window that looks iSync, showing the name and description of your phone. From there, fire up iTunes and select individual songs or a whole playlist (not supported by all phones) and then drag them to the EasyListening window. You can also use EasyListening to sync songs to a Memory Stick card.
I no longer have a Sony Ericsson phone, so I wasn't able to test out this application's syncing abilities, but the process looks to be straight forward. For those of you who have Sony Ericssons, you know the process of dragging and dropping songs to the phone can be difficult, especially because the Mac tends to let invisible files linger. EasyListening ensures that this won't happen.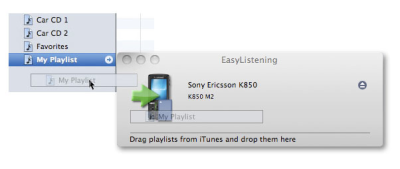 EasyListening gives you a couple options in the preferences, allowing you to either copy the songs over to the phone or synchronize a playlist (presumably two way), and where you want the app to save the music, to internal memory or memory card.
EasyListening reportedly generally works with the following Sony Ericsson phones:
K510, K530, K550, K610, K630, K660, K750, K770, K790, K800, K810, K850, T650, S500, V630, W200, W300, W380, W550, W580, W600, W610, W660, W700, W710, W800, W810, W880, W890, W900, W910, Z530, Z550, and Z610.
Keep in mind, however, that because of Digital Rights Management (DRM) on certain iTunes songs, not all tracks will work on your Sony Ericsson phone. unDRM'd iTunes Plus songs should work fine.
If you want to try it out, Divine Robot provides a demo which limits you to 3 song transfers at a time, and if you want to buy, the app will set you back $10.