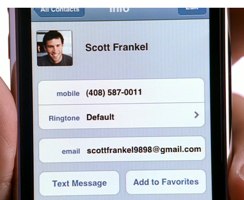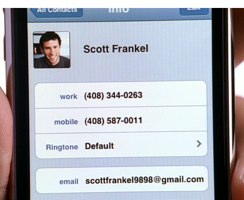 Those of you who are old enough will maybe remember the 80's hit Jenny by Tommy Tutone. The song repeated over and over again 8675309, the supposed phone number of a fictitious girl named Jenny. Back then the song drove anyone across the nation with that phone number nuts as they were overwhelmed by annoying random phone calls.
Today, most movies, TV shows, songs, commercials, etc. use a "555" number to avoid this type of issue. So imagine how strange it was for me last night when I saw one of Apple's latest iPhone 3G ads prominently featuring what looked like a legitimate phone number. In the new Work Friendly ad for the iPhone 3G there is a point when they display a contact entry for Scott Frankel and right there in the middle of the screen is an actual (408) phone number. Two actually, because there is also a bad edit in the middle where the screen magically changes mid-shot and adds a second "office" number. After my initial shock wore off I began to wonder. Why would Apple use a "real" number in an iPhone ad? Was this simply a mistake by the ad agency? A clever marketing campaign? I could see by the zip code it was a Cupertino number, so was this a secret hotline into Apple's headquarters? Well, any Mac geek can probably guess what I did next. Of course. I grabbed my own iPhone and started dialing.
The first number, Scott's "mobile", simply had a call failure each time I tried it. The second "work" number went straight into a generic voicemail box. Now, I didn't leave a message, but I have to wonder what would happen if you did. What is the point of all this? Is there a point? In the back of my mind I was kind of hoping this was a great viral marking scheme and the start of some cool iPhone/Apple treasure hunt like the kind of campaigns the folks over at Mac Heist have crafted in the past. But alas, it doesn't appear to be so. Seems like a missed opportunity. Truth is, it's probably just a prank on some poor unsuspecting intern who works at Apple. This guy is now wondering why he gets like 3,000 voice mails a day and why the folks in marketing snicker at him as he shuffles out of his cubicle each day to go have lunch. Maybe he should give Jenny a call and see if she's available to join him?