While there are many UI changes in iTunes 10, a number of which are being debated on as to their merit. One in particular seems to be despised more than most. The change of the standard close, minimize, and maximize "signal" buttons from a horizontal orientation to a vertical one. We can only speculate why Apple's engineers and designers made this radical change. The most obvious assumption is it better utilizes the extra vertical space created by the control buttons and the track info window. It also does provide consistency between the main player and mini player which already had the signal buttons in a vertical orientation.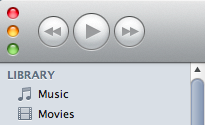 One thing I believe users find frustrating about Apple making these kinds of changes is there often isn't an option added to revert the item back to it's old functionality or design. In the case of the iTunes 10 "signal" buttons, Apple truly does control the vertical and the horizontal. Or do they?
Take back the horizontal.
Smart Mac Geeks and hackers have found a way to put things back the way they were in iTunes 9 (nod to Macgasm for this trick). This hack does require entering some Terminal commands, so if that makes you nervous you probably want to skip it. For those of you who just can't stand the new orientation and who are a bit more adventurous, this tip may be your solution. As a final warning, hacking around in the bowels of iTunes and your system always poses a risk. Please make sure you have back-ups and proceed with caution.
Put iTunes 10 "signal" buttons back in horizontal orientation
Quit iTunes 10
Launch the Terminal (Applications –> Utilities –> Terminal)
At the prompt type the following:
defaults write com.apple.iTunes full-window -boolean YES




Hit Enter (the change will be applied even though you'll not get feedback).
Quit the Terminal.
Launch iTunes and enjoy your restored "signal" buttons. Ahhh!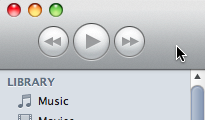 If you decide later that Apple was right and vertical is better you can change things back by repeating the steps above and replacing the word 'YES' with 'NO' in step 3 like so:
defaults write com.apple.iTunes full-window -boolean NO