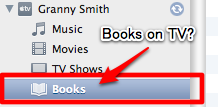 While certainly not a new concept (I think Levar Burton and Reading Rainbow beat Apple to the punch), today I noticed iTunes 10 lists a "Books" entry under my Apple TV. There doesn't appear to be a corresponding tab for syncing (or streaming) book content to the device though.

So, could this be a sign of a feature to come? Most likely not. It's probably just a glitch that will be remedied in a future software update. I don't think there would be much value in being able to sync or stream iBooks to your Apple TV. The one possible exception would be the new "enchanced" iBooks that have multi media features built in. Even then I don't think there is enough demand to warrant Apple TV support. Plus, the feature seems even stranger if you consider you can't buy or read iBooks on your Mac yet. Seems like Apple would add support to the desktop long before they'd bring books to the boob tube.
Update:
@h1ro on Twitter mentioned that the Books section might be for syncing of Audiobook content which does fall under the Books section in iTunes. Makes perfect sense and that though occurred to me too. Trouble is, as pointed out above, there is NO corresponding tab in iTunes 10 to manage that content on the Apple TV.
Update #2:
OK, so as @Jose_Gutierrez pointed out, @h1ro is correct. The Books section IS for audiobooks, I just couldn't see it. Even though I own 15 audiobooks and those are in my iTunes library I can't sync them to my AppleTV. You see, the feature only supports audiobooks purchased directly from iTunes. Mine were purchased from Audible.com and added to my iTunes library. Even though I can play those books in iTunes, sync them to my iPhone, iPod, and iPad, I can't play them on my Apple TV. To make things worse and even more confusing, the audiobooks sold on iTunes are "presented by" Audible.com. That is seriously messed up. See kids, this is why DRM is a fricken bad idea.